Clearwater Kosher is open Sunday-Friday by appointment only.

Please call us @ 727-265-2770 so that that we can schedule a time that works for you!
 
IF YOU HAVE ANY QUESTIONS PLEASE CALL US @ 727-265-2770  - WE WILL BE GLAD TO HELP.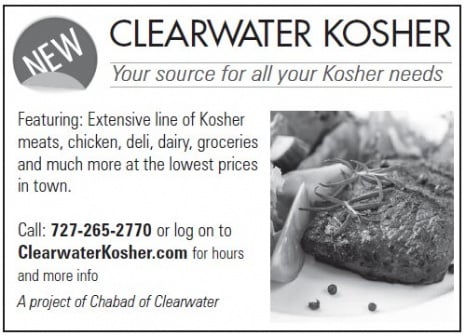 Just in time for Rosh Hashana 5775,  Clearwater Kosher,  a project of Chabad of Clearwater, directed by Rabbi & Rebbetzin Levi & Miriam Hodakov opened for business serving both the Jewish residents in Central Pinellas county as well as visitors to Clearwater and Clearwater Beach.
Clearwater Kosher, "Where Shopping is a Mitzvah", is centrally located @ 2280 Belleair Road - Clearwater, FL, 33764, just east of Belcher, and is also home to the Tabacinic Chabad Center.
Clearwater Kosher features an extensive line of Kosher meats, chicken, deli, dairy, groceries, bakery goods and more.
We also carry a full line of Kosher for Passover products including: Kosher Matzah, Kosher Chicken, Kosher Brisket, Kosher Gefilte fish and much more.

"Our goal is to serve the community and help make it easier to keep Kosher. To that end we are committed to keep our prices very reasonable and our overhead as low as possible. Shoppers will also be doing a Mitzvah each time they shop, as proceeds will go to further the programs offered by Chabad" said Rabbi Hodakov. "Most of our products, specifically the Kosher meats, chicken and deli could not be found in Clearwater. That will no longer be a problem" Hodakov concluded.
Please visit us @ ClearwaterKosher.com and "LIKE" our page 
If you would like us to carry a specific product, or have any questions please email: [email protected] or call us @ 727-265-2770 
If you are looking for Kosher in Clearwater or Kosher in Tampa Bay or Kosher in Largo or Kosher in Palm Harbor or Kosher in Oldsmar, Clearwater Kosher can help!