MARCH 2020

EFFECTIVE IMMEDIATELY YOU MUST MAKE AN APPOINTMENT TO SHOP @ Clearwater Kosher

PLEASE LOG ON TO: https://calendly.com/clearwaterkosher/passover-shopping-clearwater-kosher?month=2020-03&date=2020-03-23 TO SCHEDULE YOUR APPOINTMENT.
WE WILL FOLLOW UP WITH YOU AND TAKE YOUR ORDER OVER THE PHONE.
UPON ARRIVAL PLEASE CALL US @ 727-479-4451 AND WE WILL BRING YOUR ORDER TO YOUR CAR!
IN STORE SHOPPING IS SUSPENDED UNTIL THE END OF THE PANDEMIC MAY IT BE VERY SOON! 

IF YOU HAVE ANY QUESTIONS PLEASE CALL REBBETZIN MIRIAM @ 727-479-4451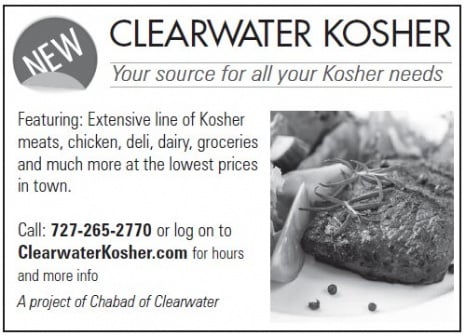 Just in time for Rosh Hashana 5775,  Clearwater Kosher,  a project of Chabad of Clearwater, directed by Rabbi & Rebbetzin Levi & Miriam Hodakov opened for business serving both the Jewish residents in Central Pinellas county as well as visitors to Clearwater and Clearwater Beach.
Clearwater Kosher, "Where Shopping is a Mitzvah", is centrally located @ 2280 Belleair Road - Clearwater, FL, 33764, just east of Belcher, and is also home to the Tabacinic Chabad Center.
From September-June, the store is generally open every Sunday from 10:00am-12:00pm, Thursday from 5:00pm-8:00pm and Friday from 10:00am-12:00pm.
It is always best to call ahead in case of a schedule change.  
For hours in July & August please call us at 727-265-2770.
Clearwater Kosher features an extensive line of Kosher meats, chicken, deli, dairy, groceries, bakery goods and more.

"Our goal is to serve the community and help make it easier to keep Kosher. To that end we are committed to keep our prices very reasonable and our overhead as low as possible. Shoppers will also be doing a Mitzvah each time they shop, as proceeds will go to further the programs offered by Chabad" said Rabbi Hodakov. "Most of our products, specifically the Kosher meats, chicken and deli could not be found in Clearwater. That will no longer be a problem" Hodakov concluded.
Please visit us @ ClearwaterKosher.com and "LIKE" our page 
If you would like us to carry a specific product, or have any questions please email: [email protected] or call us @ 727-265-2770